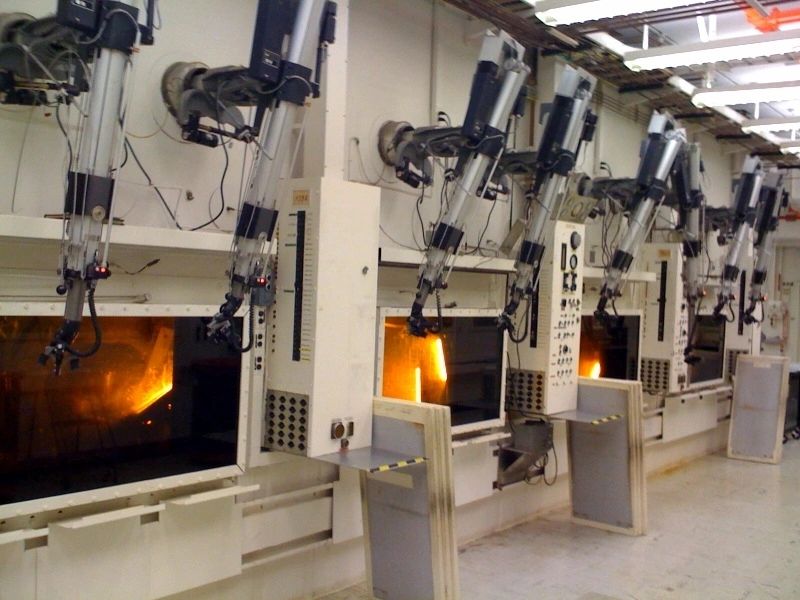 Connecticut Advanced Nuclear Engine Lab - Middletown (We welcome stories from people who worked at CANEL and are always interested in photos and other materials relating to the project/facility.) Above: Hot Cell facility for handling highly radioactive materials similar to what was utilized at the Pratt Middletown CANEL plant in the 50s/60s. By the late fifties the US Air Force had a keen interest in a long range bomber that could stay airborne for days or weeks on end. The current B-52 bomber was capable of mid-air refueling but the eight jet engines needed periodic lubrication that prevented flights lasting more than 24 hours. Nuclear power, which was becoming the darling of the US Navy, was looked upon as a possible source of power to fulfill this requirement and the Aircraft Nuclear Propulsion (ANP) program was born.
Pratt & Whitney was selected to start work on an indirect cycle nuclear propulsion system and a radiation laboratory and associated buildings were constructed on Aircraft Road in Middletown, CT adjacent to the Connecticut River. The project was called the Connecticut Advanced Nuclear Engineering Laboratory (CANEL). P&W developed a super-critical water reactor, in which the working fluid was water heated to 1,500 degrees Fahrenheit, but kept in a liquid state by pressurizing to 5,000psi. Progress was slow. P&W never ran a practical test system. In fact their work was limited to component testing. In addition to work on the super-critical water reactor P&W worked with liquid metal coolant designs. It was the latter that received the most attention. The two major designs were a solid core reactor, in which the liquid metal circulated through a solid reactor core, and a circulating-fuel design, in which fuel was mixed with the coolant and critical mass was achieved as the coolant circulated through a central core. After the circulating-fuel design showed promise, work on the super-critical reactor was halted. P&W did accomplish a great deal on the design of liquid metal cooling loops, corrosion prevention, and heat exchanger design. However, P&W work at CANEL never led to a test reactor, much less one which was flight ready.
In the long run the indirect cycle showed promise, but it also required a great deal more developmental work than other designs. Construction started on a six million dollar radiation laboratory at CANEL for use in studying liquid metal to air heat transfer but construction was halted with only a shell completed because the Air Force changed its mind. Another laboratory was built at CANEL to study vacuum conditions. This laboratory cost over a million dollars, and it entered use at about the same time the ANP program was canceled. After the cancellation of the program the buildings, some hot with radioactivity, were left abandoned until the early 1990's when radiological assessment of Building 450, a two-story building with associated hot cells, storage vaults, pits, and sewers used in the 1950's and 60's project was determined to be contaminated primarily with cobalt-60 and cesium-137. In order for the building to be released for unrestricted occupancy for future use as a warehouse a contractor developed a decommissioning plan which was approved by NRC, and performed the decontamination. The project included soil and water sampling and analysis, septic tank liquid and sludge sampling, the removal and decontamination of more than ½ mile of underground pipe, and packaging, shipment, and burial of all radioactive waste generated during this decontamination effort. This building and its environs were unconditionally released by NRC in January of 1993. January 1, 1958 through December 31, 1965
CANEL staff worked from 1958 through 1961 on an Atomic Energy Commission (AEC) program to develop a nuclear reactor for propelling aircraft. The CANEL site, approximately five miles south of Middletown, Connecticut, was chosen in part because of its proximity to Pratt & Whitney Aircraft (PWAC) in East Hartford, Connecticut. The CANEL facility conducted research and development of indirect cycle technology that relied on steam generated by a nuclear reactor as a power source.
The program focused on developing high-temperature materials and reactor technology for application to high-performance systems used in military aircraft. The indirect cycle consisted of a primary heat transfer fluid circuit that carried heat from the reactor to a heat exchanger or radiator where the heat was transferred to the air going through the engine. Pratt & Whitney eventually produced a mock-up of the physical concept but an actual power-producing reactor was never built. The mock-up involved testing at CANEL using an actual reactor (built at Oak Ridge National Laboratory) using fissionable material operating at zero power. Because no power was produced, no heat removal system was necessary and little or no shielding was installed (Giguere-Davis, 1980). In 1961, the federal government canceled all efforts to develop nuclear-powered aircraft (Giguere-Davis, 1980).
Starting in 1962, CANEL assisted the AEC in design and development of the SNAP-50, a lightweight nuclear power reactor designed to operate in space. This effort used technology acquired in the indirect cycle technology work. CANEL's primary objective with SNAP-50 was the further development of heat dissipation in the reactor using lithium as a coolant. The use of lithium required CANEL to develop and test alloys for tubes, pumps, and valves to contain and move the coolant (Space, 1962). While there is no evidence that CANEL built a SNAP-50 reactor, CANEL did perform bench-scale experiments using critical assemblies in a hot-cell facility (PWAC-474). From 1961 through 1965, CANEL operated the CANEL Fuels program for the AEC. This program was also known as the Critical Assembly Fuel Element Exchange (CAFEE) fuel storage facility (Shaw, 1965). One of the specific tasks performed during the CAFEE program was the Medium Power Reactor Program in which CANEL was tasked to fabricate components (Garnett, 1965a).
In addition, CANEL performed research and development in the following areas: high-temperature nuclear fuel elements, liquid metal components, high-temperature compatibility of liquid metal coolants in other materials, and experimentation in detection of fission particles and neutrons (PWAC-378; PWAC-393; PWAC-397; PWAC-424). AEC operations were terminated at the CANEL site in 1965 (NUREG-1444). After the CANEL site was sold to United Aircraft, commercial non-AEC operations were conducted from 1967 through 1971 using AEC byproduct licenses (NUREG-1444). Documents available to NIOSH provide general process descriptions of the nuclear propulsion work and the radioactive materials remaining from the CANEL Fuels program. The radionuclide's of concern during the nuclear propulsion work were depleted and enriched uranium, plutonium, metal activation products, and mixed fission products. The site also had several fission product sources used for calibration and radiography. Radionuclide of concern during the CANEL Fuels program included depleted uranium (Corley, 1962), and enriched uranium up to 65% (Fader, 1964; ORNL, 1960). The use of U-233 is suggested by a CANEL materials forecast for 1961 (CNLM-2438). Activation and fission products resulted from SNAP-50 activities.
Two such activities that potentially resulted in small sources of activation and fission product exposures are discussed in PWAC-453 and PWAC-474; however, NIOSH does not have documentation that locates these tasks in particular buildings. CANEL documents discuss work with irradiated materials being done in hot cells, venting of fission products during post-irradiation experiments, and the storage and shipment of radioactive wastes and materials (capsules, powders, and metals). Some of the CANEL inventory of enriched uranium was transferred to General Atomics in July 1964 (Fader, 1964). Additional enriched uranium, equipment, and fuel capsules formerly used in the SNAP-50 program were shipped to Atomics International, Lawrence Livermore National Laboratory and Oak Ridge National Laboratory from September through November 1965 (Harms, 1965; Weinberg, 1965). Additional contaminated equipment was removed from CANEL by the AEC from November 1965 through July 1966; the site was transferred to Pratt & Whitney in September 1966 (Glauberman, 1966). Prior to the site transfer, all areas were decontaminated to AEC levels for unconditional release except for Buildings 150 (Fuel Elements Laboratory) and 450 (Hot Laboratory), particularly the hot cells in those areas (Glauberman, 1966). However, Pratt & Whitney assumed responsibility for these buildings and used them for commercial applications under AEC byproduct licenses.
The CANEL facility included 34 buildings on 1,100 acres of land. Under the direction of the U.S. Air Force, CANEL researchers with Pratt & Whitney attempted to develop an aircraft engine that could be powered with nuclear fuel, with General Electric Co. pursuing a similar aim at a Cincinnati lab. The Pratt & Whitney design involved using a small nuclear reactor on board a plane to heat liquids, which would in turn funnel superheated air to power turbines in flight. Also Known As: Pratt and Whitney Corp., Connecticut Advanced Nuclear Engineering Lab, United Aircraft Corp. Time Period: 1958-July 8, 1966
Facility Description: The Connecticut Aircraft Nuclear Engine Laboratory (CANEL) worked on an Atomic Energy Commission (AEC) program to develop a nuclear reactor with which to propel aircraft. Specifically, CANEL worked on developing high temperature materials, fuel elements, and liquid metal components and coolants. CANEL consisted of a hot laboratory facility, a nuclear physics laboratory, a fuel element laboratory, a nuclear materials research and development laboratory, and other buildings. The AEC Annual report for 1959 indicates that approximately $4 million in AEC equipment was at CANEL. Plutonium, mixed fission products, and probably uranium were handled at CANEL. A former ORNL employee who had worked at CANEL stated that beryllium metal and oxide in a powdered form were also handled at CANEL. Although President Kennedy canceled the aircraft nuclear propulsion program in 1961, AEC work apparently continued at CANEL until 1965.
In November 1965, the AEC hired Dunbar Transfer Company to dispose of radioactively contaminated equipment and materials. This remediation work was completed on July 8, 1966. Site Identification United Technologies/Pratt&Whitney Middletown, CT License No.: 06-00550-03 Docket No.: Unknown License Status: Terminated June 21, 1971 Project Manager: M. Roberts, Region I LLWM Monitor: B. Lahs 2. Site and Operations
The Pratt & Whitney (P&W) facility is comprised of approximately 450 hectares (1100acres) located on the west bank of the Connecticut River 8km (5 miles) southeast of Middletown, Connecticut. P&W has operated the site in Middletown for the development and manufacture of aircraft engines since 1957. At that time the site was owned by the U.S. Government and operated under contract. Of the approximately 34 major buildings on the site, 22 were identified as locations where radioactive material may have been used or stored during operations at the site. Building 450 is the only building on site with significant radioactive contamination.
Building 450 was used between June 1960 and August 1965 for the Connecticut Advanced Nuclear Engine Laboratory (CANEL) Project, which operated under AEC Contract AT(30-1)2789. The CANEL Project included the examination of test fuel elements and other reactor components for proposed experimental high-temperature reactors. The radioactive material included about 2E16 Bq (500,000 curies) of mixed fission products, activated structural material, and fuel specimens.
The U.S. Army Corps of Engineers constructed Building 450 between 1956 and 1960 for the U.S. Air Force. The building is a 3000 m2 (32,000 ft2), two-story structure located on the northwest corner of the site. The building contained a row of seven hot cells, a fan room, a liquid waste retention vault, subfloor storage pits, and associated underground liquid waste drain lines. The liquid waste retention vault was an underground room located adjacent to the east side of the building. The vault contained five tanks, which apparently were used to hold liquid waste from operations inside Building 450 before analysis and discharge. The storage pits were located east of the block of hot cells inside Building 450. The pits were probably used to store large quantities of radioactive material before or after they were processed in the hot cells. There are six small storage pits and five large storage pits. After the AEC contract activities were discontinued in August 1965, the U.S. Government sought to dispose of the property. In May 1966, P&W purchased the site from the U.S. General Services Administration. In June 1966, P&W was granted an AEC Byproduct Material License 06-00550-03. The license authorized the possession of 1.8Ell Bq (5 Ci) mixed fission products in the form of surface contamination which remained in Building 450. Most of the surface contamination was located in the hot cells. All accessible surfaces were cleaned and painted to minimize the potential for inadvertent removal of the contamination. At the request of P&W, AEC issued several license amendments to License 06-00550-03 between 1966 and 1971. The amended license authorized P&W to use the hot cells to prepare Co-60, Cs-137, Po-210, St-90, Sb-124, and It- 192 sources. Various chemical and physical forms of the isotopes were authorized. The maximum amount of radioactivity for each isotope ranged from hundreds of curies to tens of thousands of curies. P&W conducted remediation activities in Building 450 in 1970 and confirmed in a letter dated November 12, 1970, that only Co-60 and Cs-137 contamination remained in the hot cells. P&W provided a remediation report with a letter dated April 13, 1971,that requested the AEC to terminate License 06-00550-03. The letter stated that all radioactive waste and miscellaneous sources had been properly disposed. The letter also requested that certain byproduct material authorized by License 06-00550-03 be transferred to License 06-07522-02. License 06-07522-02 was issued to P&W for a facility in East Hartford, Connecticut. The remediation report stated that radiation and contamination levels met the guidelines for unrestricted use that were applicable at the time. The license was terminated by the AEC on June 21, 1971. Between April 13, 1971 and June 1, 1992, the hot ceils were locked and secured. They were not used for any purpose and no work took place inside the hot cells during this period.
Radioactive Wastes P&W's contractor Radiation Safety Associates, Inc. (RSA), performed a radiological survey in June 1992 in and around Building 450. The survey results of the hot cells (1-7), storage pits, liquid waste retention vault, and areas outside the hot cells were provided to NRC in a report dated June 24, 1992. The report stated that gamma exposure rates measured at waist height inside the hot cells ranged between 5 and 10 nC/kg (20and 40isR)/hr.), beta-gamma contamination was found to be as high as 1.4E8Bq (2.3E6 dpm)/100 cm2. Removable beta-gamma contamination was measured as high as 1.4E6Bq (2.3E4 dpm)/100 cm2; however, the majority of the measurements showed levels below 60,000 Bq (1,000 dpm)/100 cm2. Alpha contamination was not detected in any measurements. Soil contamination was detected under the sump in the floor of hot cells 3 and 4. The gross beta activity measured in the soil samples from beneath the sumps was 0.5 Bq (12 pCi)/g and 1.0 Bq to 1.1 Bq (24 to27 pCi)/g for cells 3 and 4, respectively.
A radiological survey of the six small storage pits and three of the five large storage pits indicated radioactive contamination levels !ndistinguishable from background. However, large storage pits 1 and 2 were found to contain a total of seven spots of localized fixed contamination with the highest measurement being 4E6 Bq (66,665 dpm)/100 cm2.
A radiological survey of the liquid waste storage area, including the interior of two of the five storage tanks, showed no contamination present. However, six hot spots of fixed contamination were found on the interior of tanks 2, 4, and 5. Each hot spot was less than one half-inch in diameter and measured between 1.8E6 Bq (30,000 dpm)/100 cm2 and 4.8E6 Bq (80,000 dpm)/100 cmL had one spot of removable contamination that measured 2.5E 4 Bq (408 dpm)/100 cmL.
Exposure rate measurements were made with a sodium iodide micro-R meter outside the block of hot cells and in the vicinity of the blocks that cover the storage pits. The measurements ranged between 1.3to 2.1 nC/kg (5to 8gR)/hr, which is the same range for natural background radiation in other areas of Building 450. Exposure rate measurements in the grassy areas outside Building 450 were in the range of 2.6 to 3.1 nC/kg (10 to 12R)/hr. Wipe surveys and direct frisk surveys performed outside the block of hot cells showed no removable or fixed contamination distinguishable from natural background radiation.
Description of Radiologicai Hazard Based on the knowledge of site operations and the results of the characterization survey, the significant radiological contaminants in Building 450 were determined to be Cs-137 and Co-60. The average activity fractions of these isotopes in Building 450 is about 98-percent Cs-137and 2-pcrccnt Co-60 with the majority of the contamination confined to the hot cells. Radiological surveys also were conducted in the 21 site buildings where radioactive material may have been used during the CANEL project and during licensed activities. One contaminated object was found during the surveys and was disposed as radioactive waste. Licensed material (thorium as nickel-thoria alloy parts) was found in Building 10; however, this is an authorized location of use for this rnatcrial under P&W's License SMB-151. Financial Assurance/Viable Responsible Organization There is no financial assurance for this site. However, P&W has stated that they will remove all contamination in Building 450 to levels below the current NRC guidelines for surface and soil contamination.
Status of Decommissioning Activities In 1992 P&W decided to demolish the hot cells located in Building 450 and transform the building into a warehouse. Since the only survey information of the building was 21 years old, P&W hired RSA to perform a radiological characterization of the building. RSA performed the survey of Building 451 in June 1992. RSA submitted a copy of its survey report and decommissioning plan to NRC in July 1992. Although there is no current NRC license for the radioactive material in Building 450, P&W and RSA agreed to conduct the decommissioning of the facility in accordance with applicable regulations in 10CFR Parts 19 and 20 and the written decommissioning plan. P&W also agreed to conduct radiological surveys of other site buildings that may have been contaminated with radioactive material from past licensed operations and research and development operations conducted during the time that the facility was operated under contract with the U.S. Government.
On August 23 and November 16 and 17, 1992, the NRC inspected the remediation activities at the P&W site. No safety concerns were identified during these inspections. During the November inspection, P&W requested an expedited review of the survey data for the hot cell pits and NRC's agreement that these areas may be released for unrestricted use so that support columns could be constructed and the remaining hot cell walls demolished. The inspector reviewed the data for cells 1, 2, and 7 during the inspection. Based on the review of this data, the inspector verbally confirmed that these three areas meet current criteria for release for unrestricted use and could be filled with concrete. Further review of hot cell survey data was conducted upon the receipt additional data received by the NRC in letters dated November 24 and November 30, 1992. Based on the information submitted in these letters, hot cell pits 3, 4, 5, and 6 were released for unrestricted use and P&W was permitted to fill them with concrete. However, the release of the hot cell pits for unrestricted use was on the condition that survey data for all the hot cells would be included in a single comprehensive report along with survey data from the remainder of Building 450. Decontamination activities were completed on December 21, 1992. The final survey report was submitted to the NRC on February 2, 1993. The survey report is currently undergoing NRC review.
Other Involved Parties The U.S. Environmental Protection Agency (EPA) is completing actions on the closure of a RCRA hazardous waste landfill on the P&W Middletown site. From its review of historical information, ERA has concerns regarding, but no specific evidence of, radioactive material buried on the site. Monitoring wells are to be installed at various locations around the site to monitor ground water. The EPA has concerns that buried radioactive material could be discovered during the installation of the monitoring wells. ERA provided advice on procedures that, if included in P&W's well placement procedures, would provide adequate identification and control of contamination, if any is encountered. The State of Connecticut has performed exposure rate measurements, soil samples, and sediment samples downstream of the former effluent outfall. The exposure rate measurements were indistinguishable from background. Analysis of the soil and sediment samples have not indicated concentrations of radioactive material beyond the normal range of background. The State of Connecticut is satisfied that there is no current significant hazard on the site as a result of radioactive material; however, it continues to remain an interested party.
Buildings on site where nuclear materials were handled include:
Building 111. Packaged radioactive waste and decontaminated equipment were stored in the building.Building 140A portion of this building housed the Nuclear Material Research and Development (NMRD) Lab, alaboratory area where radioactive material, primarily uranium, was used during contract and licensedoperations.
Building 140. A portion of this building housed the Nuclear Material Research and Development (NMRD) Lab, a laboratory area where radioactive material, primarily uranium, was used during contract and licensedoperations. Based on a review of historical safety reports, minor contamination events occurred in thisarea; however, survey records indicate that the areas were decontaminated.
Building 150. This building currently houses a large machine shop for the production of jet engine parts. Thenorthwest corner of the building previously housed the Fuel Element Lab, the Ceramics Laband the Contaminated Machine Shop, areas where radioactive material, primarily uranium,from contract and licensed operations was used. During the early 1960's there were numerousminor contamination incidents in these areas.
Building 155. This large shed currently serves as storage for compressed gas bottles. There is no ventilation systemof the building. The building was not surveyed by the contractor. Historical information indicates thatpackaged incinerator ash was stored in the building prior to disposal .
Building 440: This building currently serves as a storage area for miscellaneous equipment and houses a smallmachine shop, a grit-blasting booth and other large test apparatus. The building was formerly theNuclear Physics Laboratory and was divided into two large test cells, support rooms for each cell, achemistry lab, a counting room and office areas. Radioactive materials were used in the chemistry laband counting room during previous contract and licensed operations. One of the test cells may havehoused a small reactor test loop for liquid metal coolant testing. Radiological surveys and safetyreports from the time period that radioactive material was used in the facility indicate that minorcontamination events occurred in these areas of the building Additional Info: http://www.megazone.org/ANP/tech.shtml http://www.atomic engines.com/ANP_tech.html Petition Evaluation Report: http://www.cdc.gov/niosh/ocas/pdfs/sec/canel/caneler.pdf