The Nike launch site and barracks was dedicated on May 18, 1957. It 

was located west of Hopmeadow Street (Rt.10) between Old Meadow Plain Road and Lincoln lane. The lower section, near Hopmeadow Street, is now the 

location of the Tower View Apartments/Condominiums, directly across the street from Northeast Utilities. 

 The underground 

chambers were filled in with sand decades ago for safety reasons. 
      

The radar control site was in the town of Avon, in the Talcott Mountain State Forest area. It is now the site of the Talcott Mountain Science Center.
     At one point the Federal Government had acquired additional acreage along Hopmeadow 

Street north of the Nike site as potential ground for personnel stationed at 

Weatogue. This never materialized. In 1962 the property (5.4 acres) was 

offered to the town for $2,300 (exactly half the going rate) which the town 

was happy to purchase. There was a stipulation in the deal that stated the 

land had to be used for community purposes for at least twenty years after 

the sale which lead to the recreational field called "Weatogue Park." 
      

The Nike defense system utilized two different types of missiles: Ajax and Hercules with Simsbury's site utilizing the Ajax. The Simsbury Historical Society provided 

three photographs from the site. These show the opening 

ceremonies from May 18, 1957. One photo has a great crowd shot which shows 

some Simsbury residents looking on. The other, I believe, shows Lt. Col. 

Richard E. Lowry (the site's Commanding Officer) shaking hands with an 

unidentified officer. The other clearly shows the Ajax missiles at various 

launch angles.  Nike missiles were always launches almost straight up but we have seen shots like this one where the missiles were staged at different angles for effect.  (The missiles were launched at a slight angle from vertical so that the booster rockets wouldn't fall back down on the launch site but instead will impact an area a mile or so from the battery.  Sites were located so that this impact area was sparcely populated.
Launcher area: Simsbury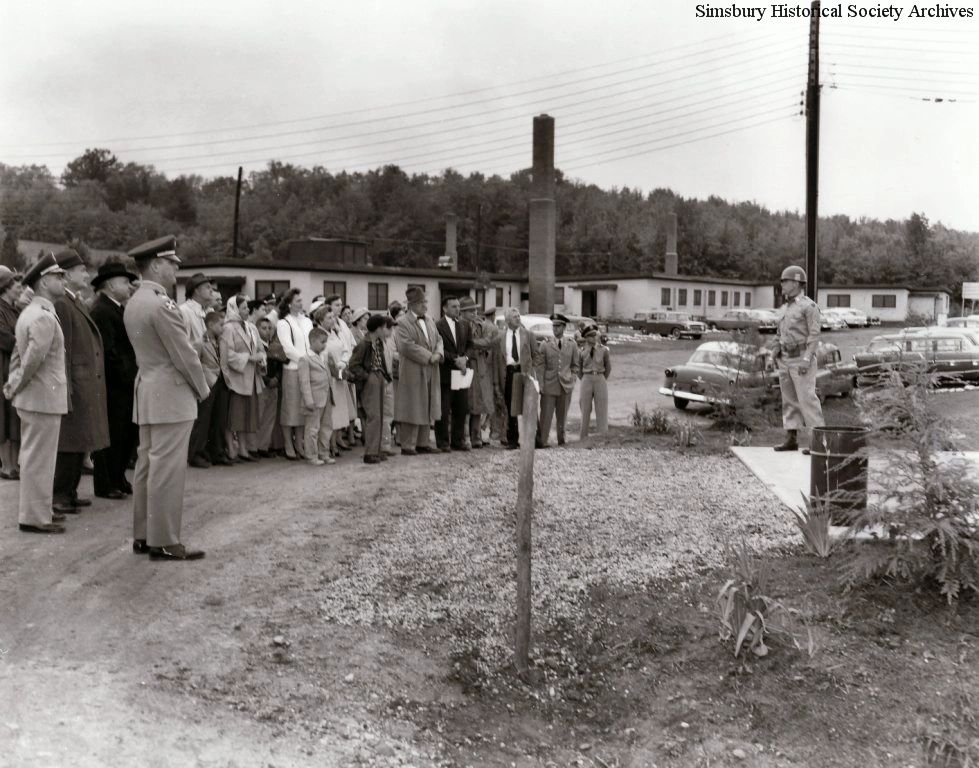 Launch site dedication, May 18, 1957




Lt. Col. Richard E. Lowry (the site's Commanding Officer) shaking hands with an
 unidentified officer.




Ajax missile battery in Simsbury. Condos now sit on this location (see below).