If you were stationed at this Nike site, or any of the nearby sites in CT or MA, we'd love to hear from you. Please contact us at webmaster@coldwar-ct.com

Operational from 1956 - June, 1971.
Missile Type, Ajax: Nike 1B, 2C/18H, 30A/10L-U.



The radar "IFC" site was on Scantic Road in East Windsor.



1990 Aerial photo of IFC site.




PFC Cluff on guard on duty at the front gate. The little box on the gate had a button known as the "panic button" reported most often used to notify the orderly room when the Battlion or higher ups made an unannounced or sneak inspection. This view is down the access road towards Scantic Rd. Armed guards were used to protect the IFC sites and sentry dogs were used to protect Nike Hercules batteries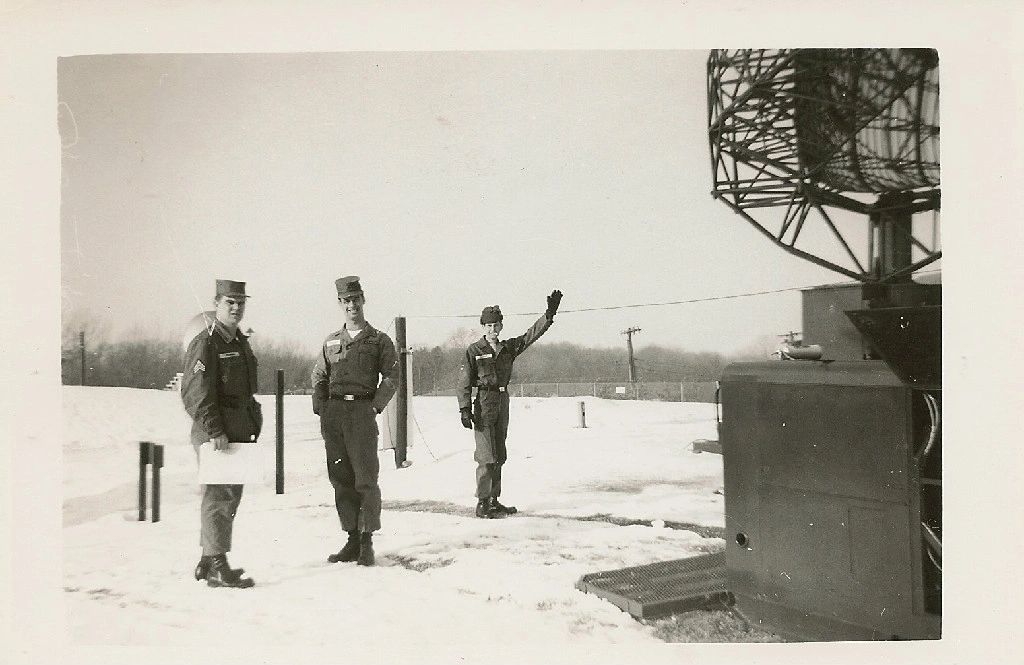 L-R: Unidentified sargeant, Jim (?) Dean and man with raise hand is Sgt. Hanley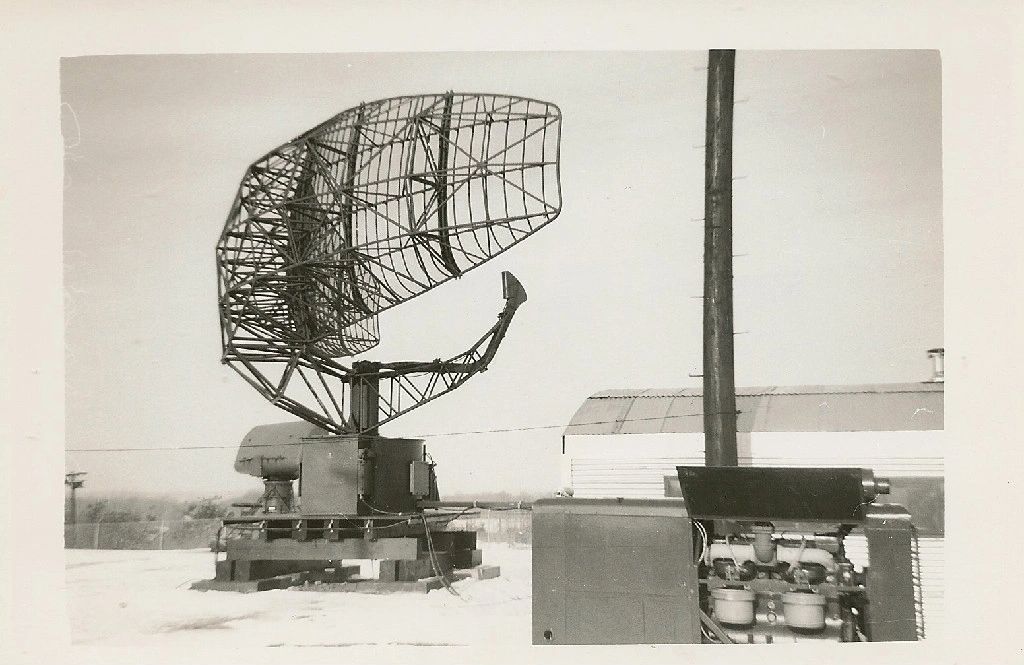 Long range radar with support buildling and generator on right.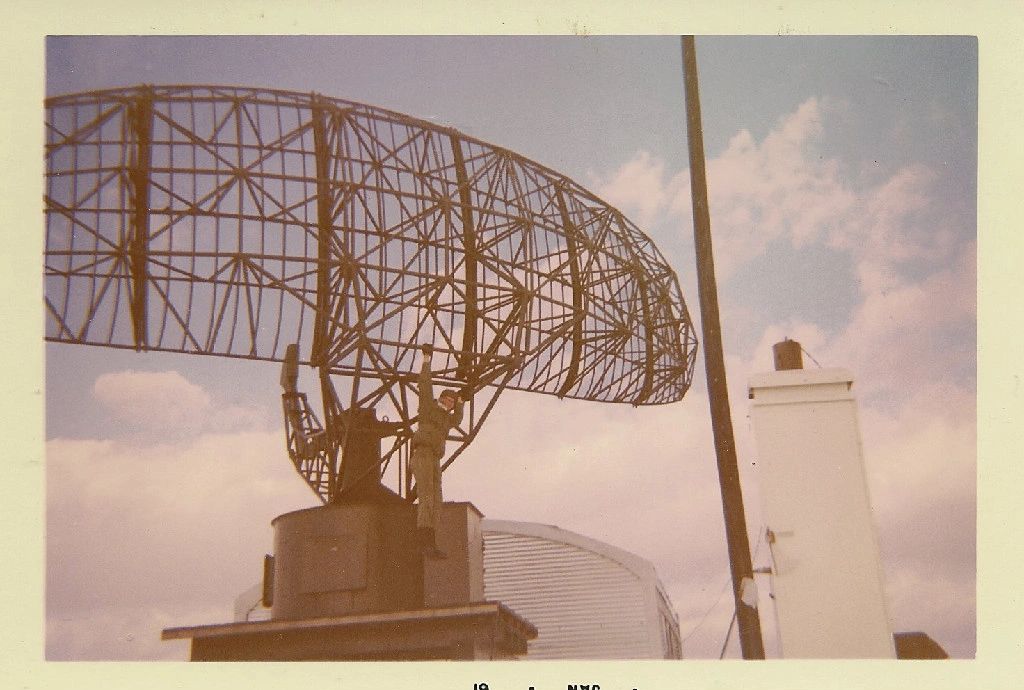 Another view of the Long Range Radar.
PFC Joe N. is taking a ride on the rotating dish.




The Target Tracking Radar was across from the guard house and gate.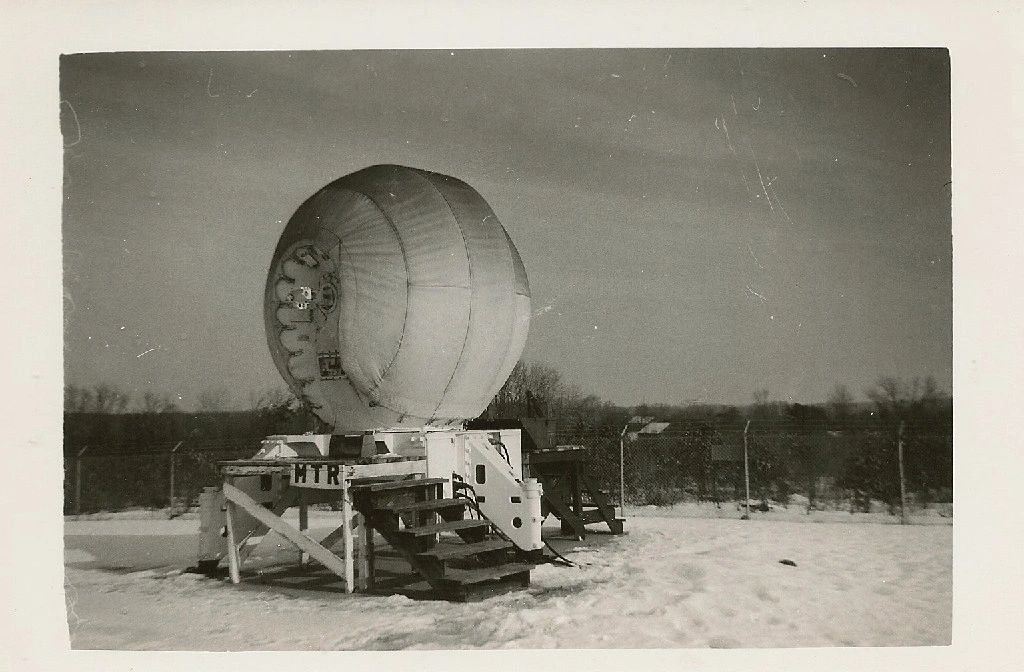 The Missile Tracking Radar was positioned to the right side of the Aquistion Radar toward the corner of the fence.




Dean and Sgt Hanley starting the generator with Long Range Radar
in the background.




Aquistion radar.




Joe N. climbing the security fencing.




Joe N, who supplied the above images, wrote:
"I got Viral pneumonia 2 weeks into Basic and spent 5 weeks in the hospitel so I got recycled and I think missed out on Advanced Individual Training. When I graduated basic I was sent to the Nike IFC site in (E. Windsor) Ct after a 30 day leave. Well it wasn't long before I was making a lot of 'points'. One day we were on "Alert Status" and I was given the job of mowing the grass up by the Aquistion radar or MTR, not sure which one. Let me say in my defense (I was) a 17 year old from the city and the only machine I had ever used up till that point was a push lawnmower, the scissors type. So they gave me this BIG mower you know the kind, it will eat anything and want more. It had one problem a loose handle and when you disengaged the power wheels it didn't stop to well. And they gave this monster to me, an innocent teen-ager. So I started mowing the high grass and as I got up to the Radar I could just make out something in the grass. I disengage the power handle but it keep on going right over the cables to the radar! Remember we are on "Alert Status" so now we had to get one of the other Batteries to back us up till we could fix the problem. Let me add those cables were not supposed to be out of their trough or gutter and up on the ground like that. I think was a Sgt. Shaw at the time who had to attempt to fix it. It stated to rain so they set up a tent over him so he could solder all those little wires of many colors together so we could get back up to Alert Status. They did blame me and I fell in disfavor for some time. In all fairness I did have a lot of good times too."

Contributor Dick Servati submitted the following recollection:
"I spent a total of 6 years on Nike sites. 1955-1958 at Redmond Washington. Due to our close proximity to the Bering Straits we constantly had real alerts, sometimes two or three times a week and sometimes more frequently. So depending on one's perspective, they were either exciting or frightening times. Especially when we moved to Red Alert. At that time we did not have radar IFF (Identification Friend or Foe) and had to depend on the Air Force for IFF. Therefore our shooting SOP was after a certain time frame without IFF we would declare weapons free and prepare to actually fire on the targets. Though we never had to fire, we did have some close calls. With all the alerts and the sirens blowing at all times of day and night, needless to say our neighbors were not too happy. The nearby dairy man was quite angry as we were upsetting his cows. If they only knew what was really going on I'm sure they would have thought better of us (at least I hope so). So our relationships with the community were strained at best.
"I recall one day a womens committee from Redmond came to our site and wanted us to beautify the hillside which could be viewed from town depending on one's location. Their thought was that we should plant shrubs and flowers. We respectfully declined.
"In 1958 I transferred to Connecticut. Where I served on three sites, East Windsor, Cromwell/Midletown, and Manchester. Things were quieter in Connecticut. I don't recall having an actual alert while there. The biggest event was when the Nike site in New Jersey blew up. This of couse affected us as well as all other sites. As far as I know the reason for that explosion was never determined. But in an attempt to find out why, we were required to disarm our missiles (one site at a time) apply new arming divices and rearm our missiles. This was a long drawn our process with civilian technicians sitting a sandbag bunker a safe distance from the revetment area while me and the other maintenance men went through the process of removing the fuel, the warheads, and the arming divices, and then rearming them. Calling out each step we were taking as they were recorded by the civilian techs. The Nike system never had another incident like that. It is my personal opinion that the explosion was probably caused when someone for some unknown reason hooked up the firing squib without using the squib tester to drain off any static electricity. For truly the NIke site was as safe as the neighborhood gas station.
"After those six years with the Nike system on the way out I was transferred along with 56 other Nike men to Field Artillery Missiles (surface to surface) the Sergeant Missile at Fort Sill OK and spent the next 14 years in that system. But at heart I will always be an Air Defense Man. The six years in the NIke system were the best of my 20 year career."


Tom Chesters was stationed in East Windsor in 1960 and provided the roster above. Tom writes:
"I was 17 and fresh out of high school in 1960 when I enlisted in the Army. I asked my recruiter if I could go somewhere to learn about computers, because even in 1962 I thought they were going to be an important part of the future. They sent me from basic in Ft. Leonard Wood, MO to the East Windsor Nike IFC site, where I stayed from the next 34 months. Initially they placed me in a "radar van" monitoring our three radars, target tracking, missile tracking and acquisition, which was the big radar that panned the skies for Russian bombers. After two months of living in the dark, sweating hot (or freezing cold) life in the vans, I rebeled. Monitoring the old computers, as opposed to learning what was in them, was not for me. I told Captain Clang I refused to do it anymore because it was not what I was promised. He threatened me with a court-martial, but then took my age into account and placed me in the motor pool where I became a "wheeled vehicle mechanic." And there I stayed until I was discharged in July '63.
"I don't know the answer to most of your questions except from my limited perspective. Life consisted of rising early for the reveille formation and pledge, followed by breakfast at the mess hall, unless I had CQ duty (Charge of quarters overnight answering phones detail), guard duty at the front gate (armed with a rifle and a pistol in the guard shack, about the size of a small closet), or mess duty (KP), in which case I would already be in the mess hall. After that we had our assigned duties, either cleaning something, painting something (like rocks), or "policing the area" (picking up butts and whatnot from the ground). Or, as was usually my duty, preparing the vehicles with daily preventive maintenance. Because I was also assigned as a motor pool driver, I would be sent out to chauffeur officers to and from their off-post quarters, run shopping trips and other errands, and even take our bed linens to NY for exchange (Yes, the NY city), and like that. If it was near inspection time, we would be assigned to fill up the big trucks with anything we did not want the higher brass to see and park the trucks somewhere until the inspection was over.
"After a mess lunch and dinner, our time was our own, and mostly we just socialized with each other, which is to say we drank beer or wine until it was bed time. Many of us had our own cars or borrowed one another's for off-post joy riding to visit with the local girls. Sometimes we had girls bused in for dances in the mess hall. Great fun.
"Not sure what security was like at the launch site, as the only time I was ever allowed in there was for one tour (many scary looking missile tip bombs, John!) and many times to plow snow. We had no automatic hydraulic pumps to lift the blade, so it took one man to drive and another to pump the blade up. Very tiring.
"Don't know about the radio comm link. I never communicated with anyone at the launch site.
"No one ever complained about the radars causing electronic issues, probably because they were always aimed skyward. We occasionally had drills, but no real alerts that I was ever made aware of.
"The strangest thing that I ever saw was during the start of a an Inspection General inspection where he was coming in by helicopter. It was a cloudy, rainy day and there were puddles and mud everywhere. The helicopter circled several times trying to find a decent piece of ground to set down on, and when the pilot was about twenty feet off the ground, a wind gust suddenly tipped the copter to the right as we all stood in formation. And the unbuckled Inspector General fell out of the open air doorway. Fortunately for him, he landed face first in the mud. That probably saved his life. There was no inspection that day.
"You can see by the images below that we were a pretty scruffy looking bunch. For whatever reason they never enforced any hair regulations as to top length so long as it was brushed back during inspections. We had almost daily foot locker and bed inspections, and latrine inspections, and outside uniform inspections. That's me in uniform in the top two pix, and me as a cop (only for 38 years, but now retired, thankyouverymuch), and now as a retired grandpa at 68.
"I looked at the pictures of the buildings again, and sorry but I can't really say for sure which was which. As best I can recall the layout, when you entered through the sliding gate from the access road, the guard shack was to the immediate right. The radars and vans were further up the entrance road to the left and the barracks building was to the right and parallel to the fence line. The main admin building was across the way from the barracks and parallel to the opposing fence line. As you continued up the road toward the rear of the site, the mess hall and then motor pool buildings were in line with the admin building. There was an open grassy area behind the buildings. The trucks and other vehicles (jeeps, cars and trailers) were all parked in the open toward the opposing fence line. (We only did limited preventive maintenance. Any serious maintenance was done at the Plainville site.) The surrounds of the radar site were shade tobacco fields."